The DASH diet stands for: Dietary Approach to Stopping Hypertension (DASH).
This diet is promoted by the national heart, lung, and blood institute a US government organization and has been designed predominantly to reduce hypertension. The dash diet plan has been developed by emphasizing on a healthy life by making changes to the dietary habits of a person.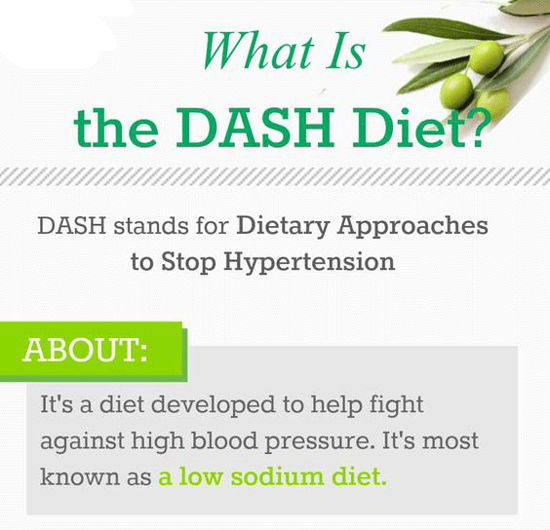 The diet plan includes a diet that is high in fruits, vegetables, low-fat dairy products, whole grain, red meat and a limited quantity of sweetened sugar food. The DASH diet recommends that a person consumes more low-fat dairy drinks like low-fat milk and eat more fruits and vegetables.
The DASH diet is a well-balanced diet that places an emphasis on healthy eating and healthy food and is suitable for use by everyone and it helps reduce blood pressure, hypertension and also helps you reduce the risk of heart ailments.
The DASH diet is also flexible enough to allow a dieter to adjust the diet to include food that you like and stay healthy as long as you moderate the quantity of food that one eats.
How does the DASH diet work?
The primary focus of the dash diet is to help a person reduce blood pressure. This is done by regulating what a person eats and the quantity of food that a person eats. One of the key aspects of the dash diet is to help a person reduce the intake of sodium, sodium is known to have a direct impact on one's blood pressure and higher quantities of sodium in your food can result in high blood pressure.
Based on a person's needs, there are two versions of the dash diet, a standard version where the daily sodium intake is approximately 2300mg or a low sodium version where the sodium intake is around 1500mg per day.
The average person normally eats a diet that has 3500mg of sodium in their food; by lowering the sodium levels the dash diet helps people reduce their blood pressure.
Unlike other diet plans, the DASH diet is a diet plan that helps you induce healthy living with a focus on reducing blood pressure rather than focusing on weight loss.
Is the DASH Diet the right solution for you?
Take our 2-minute quiz to find out!
Click here to take the Quiz NOW
The DASH diet focuses more on vegetables and fruits along with lean meat or white meat. Let's look at what food is advised while following the dash diet.
Fruits: Daily portion is 5 serving of fruit, fruit can be eaten as a meal or as a snack as and when you feel hungry. Fruits are a rich source of magnesium and fiber and are low in fat which makes them a great choice for diet food. Avoid canned food and stick to fresh fruits for your meal, snack or dessert. You can eat fresh fruit and low-fat yogurt.
Whole grain: When following the Dash diet, a dieter is required to eat 6-8 servings of whole-grain that include cereal, rice, whole grain bread, whole grain pasta, etc. Whole grain gives the body more of fiber and nutrients and is low in fat when compared to refined grains.
Dairy: Daily 3 servings of dairy products that are low-fat. Dairy products like milk, yogurt, and cheese are high in calcium and vitamin d. Avoid cream cheese or whole milk or yogurt as they are high in fat content and calories.
Meat: No more than 5-6 servings of lean meat in a day, you can eat lean red meat, poultry or fish. Meat is a good source of proteins vitamin b and zinc. However, cut done on meat as lean meat also has fat and cholesterol in it.
Foods to eat (continued):
Nuts: 4-5 servings of nuts and legumes in one week. Nuts and seeds like almonds, kidney beans, lentils, and peas are a great source of proteins and potassium and also a good source of fiber.
Fats and oils: It is allowed to have 2 servings of fats a day. However, one must only consume unsaturated fats, saturated fats are unhealthy and cause cholesterol. You can have soft margarine, low-fat mayonnaise or salad dressing. Avoid eating cheese, butter, cream, whole milk lard or coconut oil as they have a high content of saturated fat. Fried food contains trans fat which is also not recommended.
Sweets: When following the dash diet one can eat up to 5 serving of sweet food like jelly, jam or sweet lemonade. A person must go for fat-free sugared food and must avoid aerated drinks, desserts that have a high sugar content or fat content. You can use sugar substitutes that contain aspartame or sucralose as well.
Alcohol and caffeine:  A person following the dash diet must limit the consumption of alcohol as it increases blood pressure. Men should not have more than 2 drinks of alcohol in a week and women should not consume more than 1 drink in a week. You should also avoid caffeine as it increases blood pressure.
The dash diet is more of a healthy approach to one's diet and lifestyle and is designed to make changes to your dietary habits rather than being a weight loss diet. This diet helps you reduce your blood pressure by cutting down on sodium, fat and cholesterol intake. If you suffer from blood pressure or hypertension, this is a great diet to follow.
Is the DASH diet right for you?
There are so many diets out there…  how are you supposed to know which one to follow?
Paleo, Mediterranean, vegan, low-carb, low-fat, … there are too many to count! The DASH Diet, which stands for Dietary Approaches to Stop Hypertension, is one of the proven, effective diets that should be on your radar.
Promoted by the National Heart, Lung, and Blood Institute, the DASH Diet was originally created to help reduce hypertension (high blood pressure). However, because it is centered around eating healthy foods, the DASH Diet is a great option for weight loss as well.
Summary
Article Name
Description
This diet is promoted by the national heart, lung, and blood institute a US government organization and has been designed predominantly to reduce hypertension.
Author
Publisher Name
Publisher Logo